Beauty & Self
Books & Music
Career
Computers
Education
Family
Food & Wine
Health & Fitness
Hobbies & Crafts
Home & Garden
Money
News & Politics
Relationships
Religion & Spirituality
Sports
Travel & Culture
TV & Movies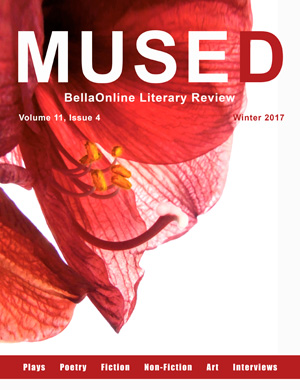 We all travel on this blue-green ball around our very own star each year, sliding a little closer, sliding a bit further away. The balance is critical. Too much closer and we'd roast. Too much further away and we'd freeze.

We should be aware of just how blessed we are that our Earth is "just right" - and do what we can to keep our world healthy. It's the only one we have.

Enjoy the Mused Winter Solstice 2017 Issue



A Death In C Minor Book Review
Suspense / Thriller Books - Karen Hancock, Editor

Concert Pianist Jess Beaumont rents a house in Kenwick, Essex, England to escape from several tragedies that have recently happened in her life. She becomes involved in solving the grisly murder of one of the residents, and barely escapes with her life.




Mind Control
Baptist - Celestine A. Gatley, Editor

The enemy doesn't want your body. He does not want your finances. He does not profit from wreaking havoc on your situation. The enemy is after your mind.




Valentine Card Project in Rebelle 2
Digital Art and Design - Diane Cipollo, Editor

In this Creative Motions Rebelle Valentine card project, we will use 2 free stencils, import them into Rebelle's Stencils panel and resize, rotate and position them on the canvas. We will also paint the stencil with the Watercolor tool and learn how to draw lines freehand with the Ink Pen tool.




Lion's Breath
Yoga - Korie Beth Brown, Editor

Lighten up and relieve stress with this seemingly bizarre breathing exercise.




The Young Englishwoman wheel
Tatting - Georgia Seitz, Editor

From the vintage publication, The Young Englishwoman, a wheel pattern #174 is examined to modernize the directions.




Here's How Happiness Is Good for Your Health
Nutrition - Moss Greene, Editor

How can you change your mood? Here are some great tools to become a happier, healthier, more optimistic human-being, plus all the reasons why you should.


| Google+ |
E D I T O R R E C O M M E N D E D
Best Sweepstakes Newsletter Subscription


Best Sweepstakes is an excellent way to keep up on the latest sweeps and contests via online, snail mail and text entry. Itīs been around for years and is a trusted newsletter among sweepstakers.
OSTRICH - A Little Book About Lifeīs Ups and Downs


OSTRICH - A Little Book About Lifeīs Ups and Downs is a self-help manual of sorts to help women find their balance and their way through lifeīs many mazes because Life Is What Life Is - Nothing More and Nothing Less... A unique book for women in a rhyming saucy, seussy entertaining style with a New Age attitude. Itīs eclectically styled, wisdom gone wild for a womanīs inner child. By Kate Woods
Ni Hao, Kai- Lan: Super Special Days DVD


This Ni hao, Kai- Lan DVD: super Special Days is great for preschoolers who are fans of the show, or for preschoolers who need help identifying and managing negative emotions.